Hi everyone! I hope you all are enjoying your night.
Just wanted to let everyone know or remind that my Black, White and Splash Of Color Birthday Blog Hop is on Saturday. Stop by to check out some awesome creations. Blog candy along the way :)
I have some exciting news....
I am on Joy'sLife.com's Spring Design Team. I'm so excited for this and I can't wait to get started. I want to thank Joy for giving me the opportunity. Make sure you check out the rest of the talented Spring Team.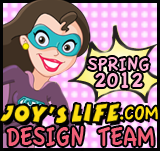 A reminder that the Clean & Simple Sunday Challenge is coming to a close soon. Click here to be taken to that challenge post. Just so everyone knows, the challenge is a monthly one. However, I have had people asking if I would be willing to make it either a bi-weekly or a monthly challenge. I have added a poll to the right to see what everyone would like to see. If you would be so kind and answer the poll, that would be fabulous :)
No projects here today but stop back tomorrow, I may have some things to share.
Thanks for stopping by and I hope you all have a fabulous night!